Not everyone is keen on applying heating tools and styling products on their hair. Come to think of it, we have been using natural ways to dry our hair for a long time. Before hair dryers and now Dyson came into existence, the good old towel along and air dry was the only solution. However, using the right towel is just as important. That is why we are here to tell you why using microfiber towels for the hair can actually be the best decision ever for your tresses.
Just like not changing your pillowcase regularly could be a cause for acne, the products and towels that touch our hair also affect it.  The wrong type of towels not only damage your hair, it can also make it brittle, increasing split ends and hair fall. Switching to a microfiber towel and silk wrap for your hair has many amazing benefits.
Water Out Fast & Moisture In
You know when you go for a swim and your nails feel softer and weaker? Too much water does the same thing to your hair. Our Silk & Microfiber Dual Hair Wrap can actually dry your hair in half the time. Quite surprising, isn't it? But it is true. Microfiber is classified as a fiber with a single denier or less, and are approximately 100 times finer than human hair. This creates a larger surface area to absorb moisture. After wrapping your hair in our Silk & Microfiber Dual Hair Wrap for around 20-30 minutes, it will be almost totally dry.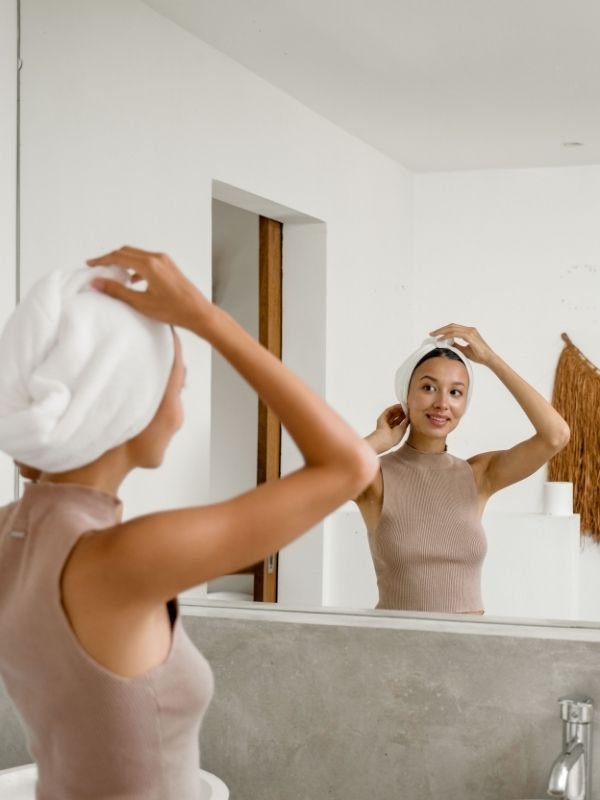 Smoother, Softer & Shinier
Rigorous rubbing of the hair with normal towels may often lead to weakened cuticles and hydral fatigue. It also increases hair breakage. Wrapping a standard, heavy cotton towel on your hair might be heavy enough to cause breakage around your hair's roots, leading to short and broken hairs near the hairline.
Conventional towels are rough in texture and can cause a lot of static build-up and frizz to your hair. With no need to rub the hair to extract water, there is less strain and friction imposed on your strands, resulting in less breakage over time.
Travel-Friendly & Lightweight
Microfiber towels are noticeably thinner than bulky cotton towels. The space-saving design makes our Silk & Microfiber Dual Hair Wrap easy to pack. It is important to wash our microfiber towel separate from cotton towels. Otherwise, you will find lint from the cotton towels all over the microfiber towel. Also, using fabric softeners aren't necessary.
Dual Purpose - Protect & Nourish
Our Silk & Microfiber Dual Hair Wrap also comes with a silk side to use it as a hair turban that extends time between washes. Wear it to bed and you can maintain hairstyles overnight, prevent damage to hair cuticles and eliminate bedhead.