There are no expectations when a gift is given. Gifts are priceless. It is the symbol of love that one carries for the other person. A person enjoys receiving gifts on their birthday, anniversary, etc. The advancement of technology has made it possible to send gifts instantly from one corner of the world to another. Silk is one of the finest gifts that one gives. This luxurious fabric is rich, comfortable, and affordable. The number of weddings is steadily increasing, making it crucial to find gift ideas that are thoughtful, affordable, and useful. Click here for fastest wedding gift Singapore delivery. As long as you check off those requirements, you can be sure that the couple will love the gift you choose – without spending a fortune on an expensive gift item. Here are some tips to help you do this:
Personalized Silk Pillowcase
Sleeping on silk pillowcases is an absolute delight. Gift this amazing personalized silk pillowcase as a wedding gift. Silk pillows will add a glamorous touch to their daily beauty routine.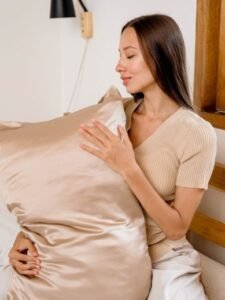 Personalisation includes a single embroidered name or word along with 12 characters (maximum). A customized set of matching pillowcases makes a great wedding gift.
Essentials Hair Kit
Hair care is the new self-care. Whatever your current hair care routine looks like, this kit will help to refine it and build your ideal ritual. The Hair care kit is an all in one kit curated with; The Comb (Ivory), The Claw (Ivory) and 1 Large Silk Scrunchie (your choice of colour) and 1 Silk Pillowcase (your choice of colour) to care for and style of the mane.
Silky Hair Duo
The Silky Hair Duo contains 1 Silk Microfiber Hair Wrap (White) for frizz-free post shampoo and 1 Silk Pillowcase (colour of your choice) to protect and hydrate your hair in sleep. This powerful combo will be the first and last step to smooth, shiny, strong, and healthy hair. This gift can be perfect for the wedding gift as it will be useful to both groom and bride.
Starter Hair Kit
The hair kit will be best if you are gifting to the bride. The Starter Hair Kit is an all in one kit which includes; The Comb (Ivory), The Hair Claw (Ivory) and 1 Large Silk Scrunchie and 1 Skinny Silk Scrunchie to care for and style your mane, whether the woman is on the go or at home.
In contrast to synthetics or conventional cotton, the chemical process involved in silk production has a lower environmental impact. In addition to being well suited to low-impact dyes, silk also reduces the environmental impact of the process of fabric colouring. Silk items provide luxury and comfort. The material is durable and resistant, so it can last for decades or even longer than that. It is a good idea to gift silk gifts like srunchies, pillowcases, masks, etc.