Best Value Silk Pillowcases in the Market
Our pillowcases are made of the highest quality silk available. It's 6A long fiber, 22-Momme 100% Mulberry Silk. And while that is a mouthful and it does need quite a bit of explaining to understand it, all you need to know is that this silk is the highest quality you can buy and it's famous for its softness, strength, and durability.
You Get Quite a Few Benefits When You Sleep With It
Because of the silk used to make a June Silk pillowcase and the way that it's made, it gives you healthier untangled hair, hydrated clearer skin, deeper sleep, and it's hypoallergenic.
Higher Quality & Still Cheaper Than Competition
Lots of other companies who make pillowcases from the same silk, charge astronomical prices. We saw one who was charging $190 for one pillowcase. With June Silk, you pay a fraction of that as we are the factory, cutting out the middleman.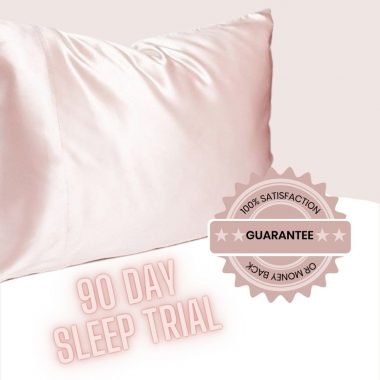 You Can Try Them Risk Free
The 100-Night Sleep Trial is our ultimate promise to you that you'll love our silk pillowcase, but if you don't, simply let us know within 100 nights from the day you receive it.
Sound too good to be true?
Take a look at what some people have been saying about our pillowcases
"I couldn't be more impressed. Not only does my hair finally "behave" while I sleep: I get much better quality sleep sleep. Also dust mites are a thing of the past." - Linda
"I really love my silk pillowcase! - it is a wonderful, quality product. Truly affordable luxury! It is a self-care gift everyone should  have." - Natalie
"I loved my first silk pillowcase so much that I gifted one for my best friend's birthday. Thank you for such an amazing product which really work wonders for our skin and hair!" - Annie
"I am so thrilled with how I'm sleeping, my skin and no more bedhead hair. I always thought silk was high maintenance but to my surprise, it is so easy to wash and care for too. I ordered for family/friends and can't wait to gift them all to be Sleeping Beauty!" - Nina
"So heavenly soft and cooling, I'm sure the coolness has been helping me to fall and stay asleep. " - Rachael
"I love the silk pillowcases. Since I have started using the pillowcases my hair and skin have improved significantly. My husband has Rosacea and it has also never looked better than it ever has. I can't believe the difference in our hair and skin. I love the pillowcases and have bought several for myself and for gifts." - Cynthia
Better Hair, Glowing Skin, Enhanced Sleep & Reduced Wrinkles
Anti Aging - 43% less friction than cotton
Anti Sleep Crease - more delicate on skin by 47%
Anti Bed Head - stops split ends and hair damage
Anti Dust Mites - eliminate allergies caused by dust mites
Hypoallergenic, Anti-Bacterial & Non-Irritating
Helps your skin retain moisture
More gentle on your hair than cotton
Natural body temperature regulator (keeps you cool)