Why You'll Love Our Silk Scrunchies? 
June Silk Silk Scrunchies
Say hello to beautiful, healthy hair! Our silk scrunchies are suitable for all hair types, from thin to thick. They are designed to offer superior hold, without discomfort or need for much adjusting and all with a one-twist application. After putting your hair through the open scrunchie, one-twist should be all that is necessary to achieve adequate hold. 
Made from the Finest 6A Grade 22 Momme Silk
Upgrade your Scrunchie, say hello to beautiful and healthy hair
Stay cool by putting up your hair with a silk scrunchie for the perfect summer look. Whether it's a cute messy bun or ponytail. Silk scrunchies prevent damage and creases to your hair and are great for any type of hair. Try out these hairstyles without having to worry about the damage. We hope you enjoy these easy scrunchie hairstyles!
Why June Silk Pillowcase?
High Quality 22 Momme Silk Pillowcase at Great Value
Hypoallergenic
Suitable for sensitive and acne prone skin
Anti-Wrinkles
No more waking up with sleep creases
Machine Washable
Easy maintenance fabric that can be washed with the rest of your laundry
Shop Confidently With Us
With fast delivery and a 100-days return policy, it costs nothing to try.
Highest Grade 6A Grade Mulberry Silk
Why 22 Momme Mulberry Silk?
The quality of pure silk is measured by momme weight. MOMME(MM) = DENSITY
June Silk products are made with 22 Momme Mulberry Silk.
A 22mm pillowcase has 20% more silk than a 19mm pillowcase and 52% more than a 16mm pillowcase. 22mm silk pillowcases are the perfect blend of sophistication, durability, luxury, and affordability.
OEKO Certified
June Silk products are safe and eco-friendly produced with no optical brightening agents(OBAs) and other chemicals. Shop with confidence.
Oeko-Tex Standard 100 is tested at 16 textile testing and research institutions in Europe and Japan, and at internationally well-known research institutions in over 60 countries.
Products with the standard 100 label are sustainably produced and have been tested for harmful substances. The OEKO-TEX® standard 100 is a guarantee of quality and safety.
Clean and Smooth Seams
Ensure minimum rubbing in any sleep position without any pressure.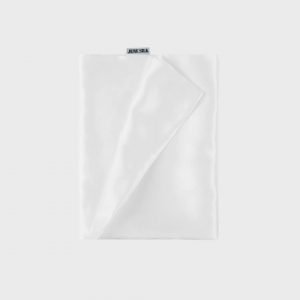 22 Momme Mulberry Silk
High quality silk. Super soft and comfortable.
Envelope Closure
An envelope closure silk pillow case folds around your pillow with a flap to hold it in place.
Frequently Asked Questions (FAQ)
Why June Silk
June Silk started with the simple goal of having better sleep each night. As we grow, we understand how good sleep impacts everything we do, we utilize the highest quality silk fibers to bring the most luxurious and comfortable silk products in your sleep.
Are Your Products 100% Silk?
Yes! All June Silk products are made from ultra-luxurious 100% Pure Mulberry Silk. We use the highest grade (6A) long fiber mulberry silk, with a thickness of 22 momme and enforce the strictest quality guidelines, including non-toxic dyes.
Why is 22 Momme Silk The Best?
The higher the mm weight, the higher the amount of silk used, and the more expensive and greater quality the silk is. 22 mm silk has a thread-count of 600. 22 mm silk has almost 20% more silk per square inch than 19 mm does.
What Are Some of the Benefits of Silk Pillowcases?
Silk doesn't just feel luxurious and smooth to the touch. It has very real benefits. It stimulates the immune system, gets rids of stress, gives an extra boost of energy in the morning, gives a fresh and rested look, and gets rid of the dark circles under the eyes.